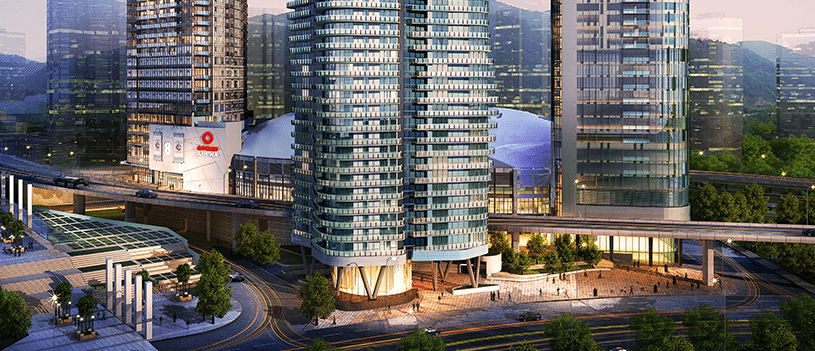 Aquilini Centre consists of three mixed-use condo rental towers surrounding Vancouver's treasured sports, concerts, and events venue, Rogers Arena. This neighbourhood is exciting, full of action, and promises to inspire positive energy both within and around the stadium. We're taking a look at some of the perks of living beside Rogers Arena.
Proximity
Rogers Arena hosts Vancouver's hottest sporting events and entertainment shows. Living in a condo rental at Aquilini Centre you will be within steps of all your favourite performances – this means you can leave your home and be in your seat at the arena in a matter of minutes! There's no need for commuting into the city or paying for long cab rides when you live next door to the stadium.
Energy
With so many exhilarating events happening within the confines of Rogers Arena, the energy undoubtedly transfers to the surrounding area at Aquilini Centre. Passing through the grounds on a game day or night of your favourite music concert, you are sure to feel a buzz in there air and you can't help but feel excited and inspired. This is just one reason why Aquilini Centre is where Vancouver comes to play everyday.
Diversity
Rogers Arena welcomes all sorts of musical acts, sporting events, comedy shows, and other exciting forms of entertainment. Click here for a list of upcoming events at Rogers Arena and you will see many unique and diverse options. Living at Aquilini Centre, you will never run out of things to do or see!
Views
For the suites facing the Arena, Aquilini Centre offers prime people-watching views, where you might even catch a glimpse of your favourite singer or athlete! As Rogers Arena is centrally located in the city, Aquilini Centre also offers breathtaking views of Gastown, False Creek, Yaletown and Chinatown.
The area around Rogers Arena creates a thrilling and inspiring atmosphere for all who pass by. If you want to be within steps of your favourite shows and games, feel the energy and excitement of the arena, treat yourself to a variety of forms of entertainment; live at the first condo rentals at Aquilini Centre.  The first tower, Aquilini Centre West is now accepting tenant applications to move in next month – we hope to hear from you soon!
If you're looking for a downtown Condo Rental, Discover Aquilini Centre Today
This has been just a glimpse of the perks of living in a condo rental beside Rogers Arena – Aquilini Centre West.  For more information, visit https://aquilinicentre.com/residential/ to see why Aquilini Centre offers so much more than just a place to live. Also, don't forget to check us out on Twitter, Facebook & Instagram  for a closer look at where Vancouver comes to play everyday! Fill out our tenant application to apply.