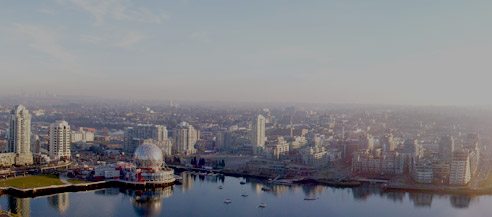 There's no denying that patio season is in full force in Vancouver! There are plenty of fun things to do around town in this weather, but sometimes it's nice to just stay close to home – and if you're lucky enough to have an outdoor patio in your rental apartment, you may never want to leave! Here's a list of 5 fun things to do on your patio this summer.
 1. Patio yoga
Vancouverites love their yoga, and a little fresh air can do the body wonders. Bring a water bottle, set up your mat, and sink into the savasana of outdoor yoga on your patio. Namaste!
 2. Take some 'you' time
In today's busy society, we often have to remind ourselves to slow down and take a breath, and a patio is a great place to regroup. Residents of rental apartments in Aquilini Centre West, the first of three rental towers going up around Rogers Arena, have access to an outdoor terrace with spectacular views of the city. This is a great place to relax, gather your thoughts, and take in the beautiful scenery of Vancouver.
 3. Barbecue with friends
Summertime is peak season to fire up the barbecue, throw on some burgers, and enjoy some quality time with friends on your patio. Renters at Aquilini Centre West will have access to a barbecue on the outdoor patio space, so all you'll need to bring is the burgers – and maybe a beverage or two!
 4. Play a board game
Bring your favourite board or card game out to your patio and let the games begin! Summer is a great time to re-establish your crib skills or get a little too into a game of Monopoly with your buds (we've all been there, right?).
 5. Stargaze
A fun date night or an evening with friends can be well spent just gazing at the stars. Head out to your patio, bring some cozy blankets and pillows, and enjoy the night lights of Vancouver. See if you can find the Big or Little Dipper, and keep an eye out for shooting stars!
IF YOU WANT TO LIVE IN A RENTAL APARTMENT WITH AN OUTDOOR PATIO FOR RESIDENTS TO ENJOY, DISCOVER AQUILINI CENTRE TODAY:
An outdoor terrace is just one of the perks of living at a rental apartment in Aquilini Centre. For a full list of amenities that residents can enjoy, click here. Now is your chance to get in on this brand new community, so make sure you fill out our tenant application for your rental apartment today, and you can move in this summer! Plus, don't forget to check us out on Facebook, Twitter, and Instagram to check out all that the Aquilini Centre lifestyle has to offer.